Game Educators Summit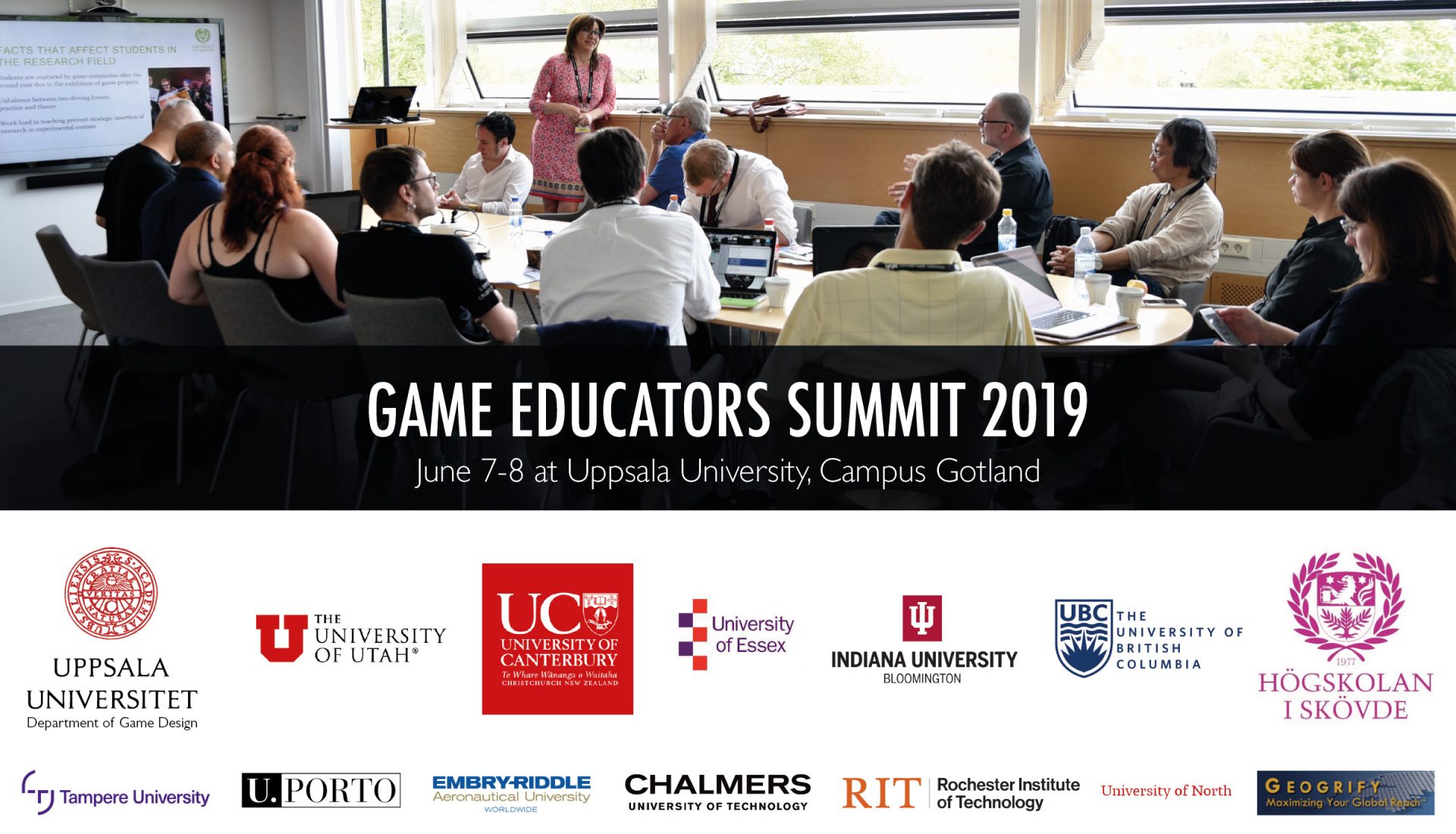 For soon-to-be three years, the Educators Summit has created a space to discuss the work and subjects that we collectively fly under the banner of game education. We have looked at teaching, research, outreach to industry and how to form a closer bond with each other.
As always, we're looking for presentations of what you teach. If you'd like to submit a presentation, these are the areas we'd like you to focus on:

What is your education's unique niche?

How did you develop that niche?

What is your biggest weakness and your biggest threat?
Do you have innovative methods of teaching your content?
And bring your business cards. We want to bring people together.

These meetings are always a reflection of the participants excellence, and we'd love to have you.

… optionally, submit a presentation!
Lastly; whether you can make it here or not, please fill in this pre-meeting survey to help keep the summit output maximally productive!

Event outline:
For those who purchase the combo-badge, we look forward to seeing you at the conference a couple of days before the symposium start!
7th of June: Educators Summit (Room: F20)
Presentations are listed as they are accepted. General: We use 10 minutes at the end of each presentation for questions. If we need longer, there's lunch and the work afternoons.
12:00 Reception is open. Pick up your badge, and maybe take your lunch (not included!) in the campus or library cafeteria.
13:00 João Jacob. Game-based learning and Gamification
13:30 Andy Phelps. Teaching Game Production at Scale
14:10 Sabine Harrer. Teaching accountable game design
14:30 Coffee Break
14:40 Josefine Westborg. Game Design and Technology – Chalmers and GUs master program
15:00 Lissa Holloway-Attaway. Games and Cultural Heritage
15:40 Michael Sellers. The IGDA Building Blocks of a Video Game Curriculum
And Mike's presentation leads into the Work Afternoon until…
17:45: Wrap up
18:30: Dinner at the campus Faculty Lounge

8th of June: Educators Summit (Room: F20)

11:00 Adam Mayes. A case study in gamifying higher education
11:40 Ryan Brown. Making Your Classroom aLIVE
12:20 Lunch (included)
13:30 Jakob Berglund Rogert. Managing Student Groups
14:10 Mary Kayler. The Scavenged: A Case Study

And Work Afternoon on how we can teach in a more engaging way until…

16:45 Wrap Up

If you're taking a flight off the island on the 8/6, you should book a cab to pick you up at the campus ~40 minutes before take-off. (it's a very small airport)
If you're taking the ferry off the island on the 8th, you can walk from the campus ~40 minutes before departure.

Registered Participants
| Name | Organisation | Title / Role |
| --- | --- | --- |
| Andrija Bernik | University North, Croatia | Ph.D. |
| Henrik Warpefelt | Uppsala University | Assistant Professor |
| Stephanie Noroozy | Uppsala University | Administrator |
| Ulf Benjaminsson | Uppsala University | Event Producer |
| Jerry Jonsson | Uppsala University | Lecturer and Subject Responsible Programming |
| Masaki Hayashi | Department of Game Design, Uppsala University | Dr |
| Ernest Adams | Uppsala University | Universitetslektor |
| Mariam Forsmark | Uppsala University - Campus Gotland | Game Design Teacher |
| Richard Bartle | University of Essex; University of Uppsala | Professor |
| Doris Rusch | Uppsala University | Senior Lecturer |
| Ryan Bown | University of Utah | Associate Professor |
| Mikael Fridenfalk | Uppsala University | Associate Professor |
| Jonatan Österberg | Uppsala University | Teacher |
| Cecilia Rodéhn | Department of game design | senior lecturer |
| Jennifer Jenson | University of British Columbia | Professor, Digital Languages, Literacies & Cultures |
| Kate Edwards | Geogrify | CEO & Principal Consultant |
| Mike Sellers | Indiana University | Director of Game Design and Professor of Practice |
| Sabine Harrer | University of Tampere | Postdoctoral Researcher |
| Emma Prowse | Department of Game Design, Uppsala University | Lecturer |
| Jakob Berglund Rogert | Uppsala University | Director of Studies |
| Hans Svensson | UPPSALA UNIVERSITY Dept. of Game Design | Deputy Head of Department |
| Lissa Holloway-Attaway | University of Skövde (Division of Game Development) | |
| Mary Kayler | Embry-Riddle Aeronautical University | |
| Andy Phelps | Rochester Institute of Technology and University of Canterbury | |
| João Jacob | LIACC, Faculdade de Engenharia da Universidade do Porto | |
| Madeleine Särland | Uppsala University, Department of Game Design | Administrative Coordinator |
| Kaspars Steinbergs | EKA University of Applied Sciences | |
| Adam Mayes | Uppsala University | Subject Responsible for Game Design |
| Mika Edström | Uppsala University | Adjunkt |
| Josefin Westborg | Chalmers University of technology | |
| Alvin OSullivan | UPPSALA UNIVERSITET | University lecturer at the Department of Game Design |
| Mischa Hiessböck | Uppsala University | Lecturer |