Registration for the 2017 Gotland Game Conference (29/5 & 30/5 in Visby) is now open! Please visit our ti.to page to register.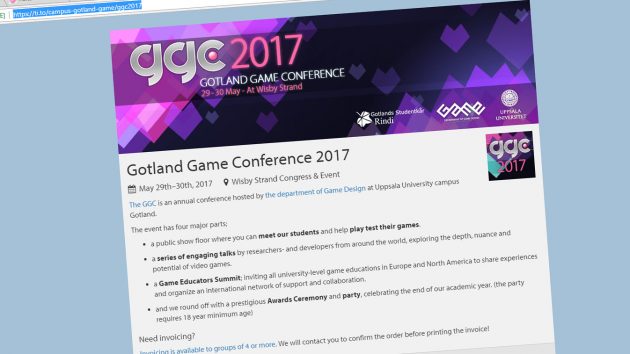 The GGC is an annual non-profit conference hosted by the department of Game Design at Uppsala University campus Gotland.
About the Visitors Pass
We are committed to welcoming a diverse community, and we know that financial accessibility is an important part of that goal. For 2017 we are offering a pay-what-you-want Visitors Pass. We kindly request that you pay what feels fair and right for you. All registered attendees get the same access to the conference. Paying more or less will not affect your experience at the event.
Please note that ALL visitors must be registered – even if you donate only 1kr; this is an insurance- and safety issue. Visitors Passes can be bought on site (credit cards only!).
About the other passes
If you do pay for your ticket, your contribution goes toward helping us bring you lots of great stuff. That means that in addition to awesome sessions presented by top-notch speakers, you will be fed, provided with free coffee and snacks throughout the event, and invited to our sweet pre-award mingle. The Conference Passes are available until the middle of May.
About the Game Educators Summit
The Summit is a micro-conference and meeting group – exclusively for university level game educators – which takes place on the 28th and 31st of May. Ergo; summit attendees start a day earlier (28/5), attend the GGC, and then do discussion and follow up a day after the GGC (31/5). The Summit-pass doubles as a full GGC ticket, and you will be provided a separate program for 28 and 31 as soon as it is nailed down!
Frequently Asked Questions:
We are a company / university and can't pay with cards. Can we pay with invoice?

Invoicing is available to groups of 4 or more. Fill in that form. We will contact you to confirm the order before printing the invoice!

What's included with the GAME Student and GAME Alumni passes?

They are full conference passes, so: food during the VIP booth crawl, 2 lunches, coffee breaks with snacks, pre-award champagne mingle and a drink ticket.

What's included with the Visitors Pass?

Everything except the food stuff. A Visitors Pass will still get you into any of the talks, the show floor and (if you're 18+) the award ceremony and party.
Any other questions? Email Ulf Benjaminsson (ulf dot benjaminsson at speldesign dot uu dot se) and we'll update this post over time.