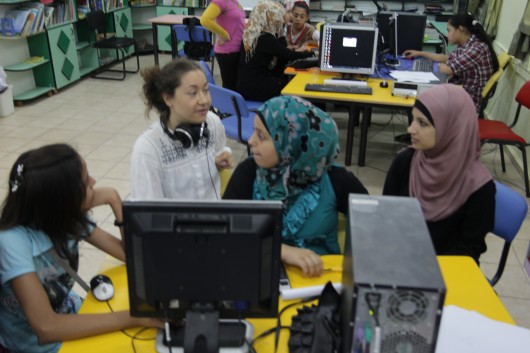 Our mission is 'to teach and inspire girls to have fun with technology and to develop computer games built on their own stories.'

Andrea Hasselager and Nevin Erönde began Game Girl Workshop as a response to the significant lack of women working in the games and technology industry, to provide them with skills to take advantage of the upcoming opportunities in the computer science industries, and also to try to close the gender gap in the industry.
In 2012 Game Girl Workshop traveled to Palestine and did several workshops there – the games turned out very different than the ones made in Western Europe.

About Andrea
Andrea Hasselager is a Danish artist, that works with digital storytelling, art and games. She has a background as a writer for advertising. She developed an online story about trafficking in women, 'Find Olena' , while being a resident at the Pervasive Media Studio. Her game about the Nordic Fruits and vegetation, Jumping Suzy, won the Nordic Game Jams 'New Nordic food price'. Lately she has developed the global concept Game Girl Workshop, where she teaches teenage girls to develop computer, Game Girl Workshop has recently been realised in Palestine.
Currently she is setting up the first Kunsthalle for Digital Art in Denmark and developing an ipad game about the female cycle.